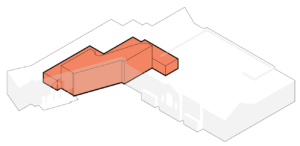 2
Expansion during Soviet times
A significant part of the image of Klaipėda Drama Theatre is the annex completed in 1990. Its emergence is covered in stories of politicians of the communist regime being persuaded in the need to expand the theater. The winners of the architectural competition Saulius Manomaitis and Izidorius Žilinskas proposed to expand the common spaces of the theatre with an annex: to create a larger lobby, box office, cloakroom, cafe and other auxiliary premises. Everyone seems to favour the relation between the new and old theatre building. The modern annex of the 1980s, which interpreted and played with historical forms, was like a provocation to the old building. To mark the contextuality, the same height of the annex was adopted, but other decisions severely separated it from the historic building. If the old theatre has a symmetrically arranged balcony with a triangular pediment, then the Soviet-era annex combines asymmetry and smooth, blank surfaces. Before, the small windows on the ground floor led to the main entrance through the entire height of the annex. There are two columns connected by an arch with the inscription 'Drama theatre'.
And deeper than in a completely open or closed space was a work of monumental art: a bas-relief of bronze and polished granite by Antanas Bosas. Planned installation of the artwork coincided with a time of political transformation, and after paying the artist, however, parts of the artwork remained in the garage of the theatre and were never displayed.
The exterior of the building reflected the architectural ideas of modernism at the time, but inside, visitors were greeted by relatively enclosed, dark spaces. In Soviet times, theatre was perceived as a place where one could try to speak a little "more", hiding from external threats. It is not surprising, therefore, that in difficult times, the author suggested architecture to express the model of a closed theatre: the lobby was closed to the square's life, it had windows only on the ground floor, and the interior plan was divided into many rooms.
Shortly after the construction of the building was completed, Lithuania regained its Independence. Unfortunately, typical for the period  shortage of materials and savings during construction, eventually  led to the physical defects of the building. The foundations sinking into the soft ground of Danė's old furrow, the cracks on the walls – all this was due to the low quality of the work completed .