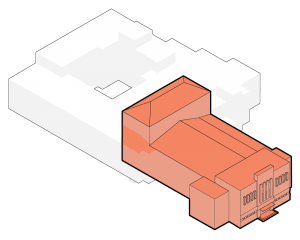 5
The great hall and the great lobby
Over time, the Great Hall of the Šiauliai Drama Theatre and its lobby have undergone transformations.
The original interior, designed by architect Karolis Reisonas, was lost after the war, during a fire. However, the old style of socialist realism was still followed in the restoration of the interior – the hall is decorated with splendour. This is evidenced by the luxurious chandelier hanging in the centre above the ground floor.
The great lobby, formed after the reconstruction of the building as two corridors, which together with the connecting part form the letter "U", is a modern take on the theatre lobby. Nor is the importance of stairs traditionally used in theatres here. Although on both sides of the lobby there is a staircase, the stairs of which are decorated with polished granite steps, none of them is dominant.
In 1979, the architect A. Bučinskaitė designed the interior design of the auditorium and lobby. After its implementation, there was no chandelier left in the great hall, and perimeter linear lighting was installed in its place – a modern solution at that time. In addition, side balconies were additionally designed.
In general, A. Bučinskaitė's decisions were ambitious, but not entirely well-received. It was said that the installation of the theatre became more interesting, but other architects showed a reserved reception of it. The materials used were not as effective as desired: the metal panel and the mirrored ceiling in the central part of the lobby did not create the impression of a larger space, but rather compressed it.
The last renovation of the interior of the Great Hall and its lobby took place in 2017, the author of the project was interior designer Martynas Olšauskas. During the renovation, the mirrored ceiling in the lobby was dismantled, but authentic relief ceilings remained in the lobby corridors. In order to create a elegant image of the theatre, grey colours were chosen, combining them with dark wood pattern decor. The granite slab floors and stair treads were also preserved. The lobby is still decorated with V. Trušis' allegorical diptych "Tragedy" and "Comedy", although the two mosaics are not visible together because they are separated by the auditorium.
Replacing the chairs with a different model, the Great Hall now seats almost 400 spectators.