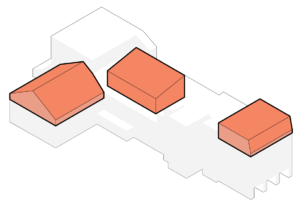 7
Additional halls
Preparatory work for reconstructions, which began in 2003, led to the appearing of new, smaller theatre halls. These are the "Rūta" Hall with 170 seats, the Small Stage with 105 seats and the mysterious rehearsal hall.
According to the original plans, a rehearsal hall was to be installed above the Great Hall, but after putting the new floor, it was decided to make an additional hall there, albeit not very comfortable nor practical for it's elongated shape. The "Rūta" Hall is almost like a real black box hall, which is necessary for smaller, non-standard theatre productions or modern dance. It is not clear why it has not got transformable seats typical for a black box hall, why it is impossible to change the orientation of the scene, why the walls are not entirely black. On the other hand, the "Rūta" Hall was complimented by a cosy, red-coloured lobby as an exhibition space, lit from above through skylights.
The rehearsal hall was moved even further – to the south wing attic above the scenography workshop. It's "mysterious" because it is inaccessible to spectators. The main advantage of this hall is that it is designed of the same size as the main stage. This allowed longer rehearsals and shortened the adaptation process of the performance (actors start rehearsing on the main stage some time before the performance) from a month to 2 weeks. Also, large tables were placed next to a small window where a little light gets in through the day. This is where the production of theater show begins: the actors and the director get together and start the first readings of the play, the roles get distributed.
The Small Hall was placed  in the attic of the main building of Laisvės Alley, when the fifth floor was added. It is easily accessible by a newly installed lift and staircase, as well as a glass gallery that extends the lobby spaces to the roof terrace. Initially, the Small Hall was hidden under a sloping tin roof, and later it was disguised by an artistic light installation. After installing a ribbed 2.5-meter-high illuminated theatre installation-parapet, the overall height of the building coincided with the building designed in 1953.