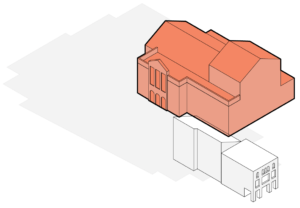 2
The "Lutnia" Theatre
The small theatre, modestly built in the depths of the lot, was very popular both during the Polish interwar and the Lithuanian post-war period, therefore, a subsequent reconstruction and expansion was a logical and natural stage in the development of this space.
The hall of the Music Society, in addition to entertaining performances and operettas, was also leased to the Bronisław Kuliaszynski's Cinema. The access to it was from the side of the avenue through the bank gate (current empty site in front of the theatre entrance), the continuation of which on the right side of the bank is still visible today. Behind the gate, a footpath led to the theatre, which was accessible from the side. At first one entered a small elongated foyer, from there through four openings – into the hall. An analogous foyer for hanging out during breaks was on the other side of the hall. One staircase near the entrance led to the balcony. The hall itself was similar to many other halls dedicated to the performing arts of the late 19th and early 20th centuries – an elongated space, a narrow single-row balconies on the sides, and an amphitheatre balcony at the back. The slightly decorated, rectangular volume of the hall with rounded corners was reminiscent of the Polish Theatre in Pohulanka, also designed by Michniewicz at around the same time.
The stage in the theatre of the Music Society was not developed, it was surrounded on both sides by simple technical rooms, and the floor above the stage, reminiscent of a stage box, was actually a room connected to the bank building and used for its purposes. During World War II, the roof of the theatre burned down and the building was not in use for some time.
In 1950-1951 the old "Lutnia" Theatre was reconstructed and decorated after the project of Vladimiras Vorobjovas, meeting the standards of socialist realism, and the interior was decorated after the project of Simonas Ramunis, on which 4th year architecture students brothers Algimantas and Vytautas Nasvytis worked as well.